How to Book a Male Escort in London
4/9/2014
Male London Escorts Blog
It can be a fairly daunting prospect - booking a male companion in London. We often get a lot of guys and girls who call us up and worry about the whole thing, and think that we are going to be some kind of bad guys who are scary to talk to.
The truth couldn't be further from this!
We are a friendly and welcoming team who are here to help you through every step of the way. We want to make your experience with our male escorts as enjoyable as possible and we want you to know that whatever you need, we will do for you!
So just follow our advice and you get yourself ready for the ride of a lifetime:
Choosing a Male Escort
The first step to take is to find a man that is right for you. This can be a big a little hard to do when you are new to the business, but each of our guys are separated out into niches to help you find the right man.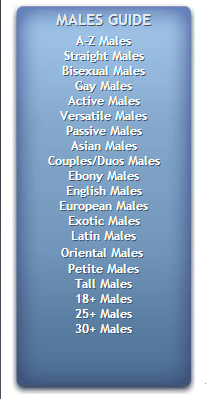 This little guide we have here on the side of our pages gives you all the information you need to know about the kind of guy you can find on our site.
Whether you are looking for a homosexual male escort, or a heterosexual male escort, you will find links to these directories here.
We also have a whole other host of guys from our 'ebony males' to our Latino lovers, so whatever niche you are looking for you can find them here.
We also have other terms like Passive and Versatile, which denote whether this male companion gives or receives sexually, if you wanted to know.
For all other terminology, please visit our guide to terms here.
Calling a Male Escort Agency
Perhaps the bit most people are afraid of....
We are a 100% discreet male companionship service in London that prides itself on making sure your privacy and discretion are our number one priority.
Our secondary priority is to make sure you find the right guy, so if you have any questions make sure you ask us them and we will be glad to help.
Don't worry about being embarrassed, trust me, we've heard it alllllllll before!
What Will I Need to Book?
At this stage, all you need to know is the guy you want and whether you would like an in-call or out-call (i.e. whether you want to go to see your male escort, or have them come to you).
It really is that simple!!
Tell us where and when you would like to meet your man and how long for and leave the rest to us... We will arrange for our sexy hunk to arrange everything else.
How To Prepare for a Date with a Male Escort
There aren't many things you really must do, but there are certain things that you can do in order to make the date a lot better.
One thing that is VERY important is to make sure you have good hygeine. Our guys will turn up looking like a million dollars and they don't want to waste all of their time turning up to see someone who hasn't showered in a week!
Make sure you groom yourself, trim yourself down too and make sure you're clean down stairs!! There is no worse turn off!!
The guy will expecy you to pay him when you meet*. As such, if you're sorting it out in cash, please get everything ready at this time so that you can get on with your time together with ease.
Finally RELAX and get yourself into the spirit. You're going to have a really fun experience and you don't want to be all tense and nervous. If you are, however, then our hot male companion will take care of you, giving you a slow massage with his strong hands to make sure you're all stress free.
*All money exchanged is for time spent together.