A First For Gay Marriage
7/27/2013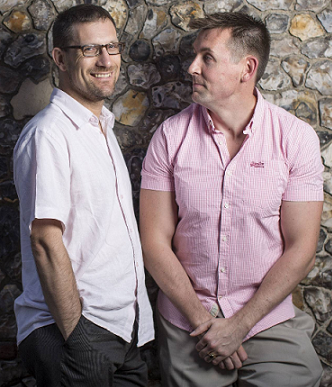 It's certainly time for a celebration, and Ed Fordham knew just how - by proposing to his long term partner Russel Eagling.
Last week finally saw the end to the draconian law in the UK that meant Gay men and women were unable to be married in the eyes of the law, or with the same rights as straight couples. Though the debate took months, the bill was passed whilst a vigil was held outside under a statue of George V by thousands of gay rights protesters.
As the news trickled down through the grapevine, the crowd buzzed with excitement, and understandably so. The idea that one's sexuality is something which can be held against one in a court of law is something completely abhorrent and against basic human nature! Here at Male London Escorts we have always believed in the rights of all people to the sacrements of marriage and that gay men and women should not be prejudiced against because of their sexual orientation. It's an abomination that it has taken so long for this matter to finally be dealt with, and worse still that in many other countries the issue still hasn't even been brought before the courts.
Ed Fordham, a Liberal Democrat politician from Camden saw this as the opportune moment, and as a choir began singing an Erasure classic, he got down on one knee and proposed to his long term boyfriend (also a Lib Dem MP) Russel Eagling.
"Jittering," as he recalls, he reached into his pocket and pulled out two rings - his grandfather's small engagement ring, and another larger - a gift from his father.
Reminiscing about his nerves, Ed jokily confessed, "I was just hoping one of them would fit. I was there thinking I've got to get this right. I'm not doing it for show. And then the choir that were there started singing an Erasure track and I thought 'right' – and went down on one knee and bingo I was there."
Overwhelmed with joy, His partner Russel immediately said yes and that was that!
Or so they thought. The next day they woke to see that none other than Nick Clegg had sent out a tweet to his 120,000 followers announcing their engagement and sharing in their happiness, as well as to find out that the Lib Dem MP Julian Hubbert had also announced their engagement in the House of Commons, only to get a rebuke from the Speaker of the House.
With the congratulations still ringing through the corridors in the House of Lords, and been retweeted all over the internet, Ed went one step further and placed an announcement of their engagement in The Times - the first time a Gay engagement was published in the paper: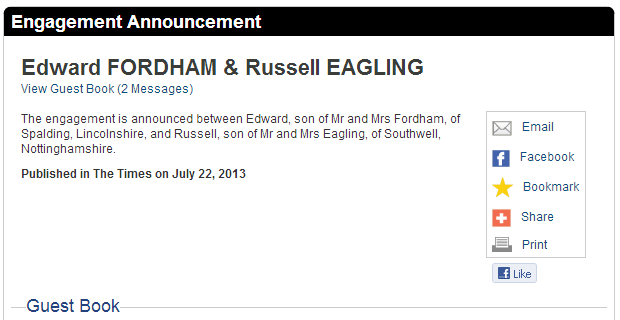 As Parliament start waking up and accepting the LGBT community as a unyielding factor of society and stop subjugating them to Old Testament style banishment, we can only hope that the rest of the world starts paying attention and before long the rights of all Gay men and women across the planet will be the same as they are for heterosexuals.